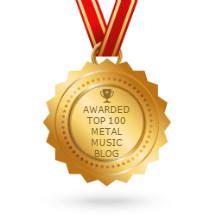 Recently we received word that We Love Metal was recognized as a Top 100 Metal Music Blog!
Thanks to you, the readers, for making us a Top 100 Metal Music Blog according to Feedspot.  Although we truly do love Metal, it takes a lot of work to consistently put up quality content that we hope will be of interest to you.  It feels good to be recognized in such a way.  There are a number of heavy hitters on this list, so we are proud to be in such esteemed company.  If you read the list, you'll find out that we are actually a Top 50 Blog!
So once again, thank you for reading and thanks to Feedspot for the recognition.
I hear the sound in a Metal way.
Rate this album:
| | |
| --- | --- |
| Average rating: | Not yet rated. |
| | Please login to vote. |
Tweet