WLM Reviews: Valor - Arrogance: The Fall
2017-07-31
When you tend to focus on one area of the metal universe more than others, acts start to sound like one another. Is that the case with Greece's Valor?  The band, out of Athens, Greece, has been a

WLM Reviews: Wind Rose - Stonehymn
2017-07-28
Personally when a band sings about real world things, that tends to get me to check out that the act is about. Pair that with some personal favorite elements and the urge to listen to the album begi

WLM Reviews: Tau Cross - Pillar of Fire
2017-07-30
When a reference to Voivod shows up somewhere, I pay attention. Multi-national band Tau Cross includes drummer Michel "Away" Langevin, so I'm paying attention. The band's second full-length album,

WLM Concert Review: Incite in Salt Lake City
2017-07-29
I, along with about 20 other Metalheads, were witness to Incite's recent show at Liquid Joe's in Salt Lake City. Yep - about 20 people.  Pathetic showing for this band.  I was surprised there weren

WLM Reviews: Eluveitie - Evocation II - Pantheon
2017-07-24
The kings of folk metal, Eluveitie, had experienced some turbulence over the past year or so. With their future in question, the return of the band is celebrated with their next release, fresh with

WLM Reviews: Edguy - Monuments
2017-07-19
25 years...25 years ago a group of kids from Germany started which what would become one of the biggest names in power/heavy metal. The legends known as Edguy have recently released their 25th anniv

WLM Reviews: Cellar Darling - This Is The Sound
2017-07-12
When a band breaks up for whatever reason and a new project forms, it's only natural fans flock over and see what the hubbub is all about. For those who are wondering, Cellar Darling is a brand n

WLM Reviews: Wintersun - The Forest Seasons
2017-07-16
Well, this was a bit of a surprise. For the last couple of years, I've been waiting for Time II, but all of the sudden Wintersun puts out The Forest Seasons (Nuclear Blast) with no warning - at least

WLM Reviews: Byzantine - The Cicada Tree
2017-07-15
The Cicada Tree is likely the album I most anticipated hearing this year. Byzantine grabbed me by the throat about a year ago and has failed to release me from their grasp. Undoubtedly, one of the mos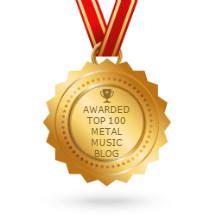 We Love Metal Awarded Top 100 Status
2017-07-12
Recently we received word that We Love Metal was recognized as a Top 100 Metal Music Blog! Thanks to you, the readers, for making us a Top 100 Metal Music Blog according to Feedspot.  Although we

Metalcore Mondays Finale - And The Metalcore Champion Is...
2017-07-10
We have finally received the Metalcore Mayhem Champion. After last week's unheard of tie, we knew we had to give the fans another shot and let their votes decide the final outcome of this tournament

WLM Reviews: Orden Ogan - Gunmen
2017-07-07
An interesting concept, one that most heavy metal bands have failed to jump on, we go into the Wild West with the latest from Orden Ogan. After listening to the new album, Gunmen, I am still wonderi

WLM Reviews: INTRCPTR - I
2017-07-22
Deciding to step a bit out of my comfort zone, I found new band INTRCPTR to ultimately be putting out some pretty cool stuff. This duo consisting of guitarist Ben Carr (5ive) and drummer Larry Herw

WLM Reviews: Wilderness Dream - Paralysis Rise
2017-07-09
Hailing from the Bay Area, the quartet known as Wilderness Dream takes some of their geographic influences combining them with a ferocity of Death Metal and a touch of blackened heaviness. On their

WLM Reviews: Decapitated - Anticult
2017-07-08
I was really expecting to not like Decapitated's latest album, Anticult on Nuclear Blast. Polish Death Metal has rarely hit the right spot for me (save for Vader's last album). I gave it a try anyway.

Metalcore Mayhem REMATCH - ROUND 2
2017-07-03
Rare is ever a time when a tournament goes against the expectations and proves to be underestimated. You guys have surprised us all and as time closes down, the battle is fierce.  As we were read

Harley's Half-Year Top 11 Albums of 2017
2017-07-01
Unbelievably, we are at the mid-point of 2017.  So far there have been some really good albums, but I'm having a tough time saying that anything I've heard so far is mind blowing.My list, thus far, is